Running a landscaping operation in Southeast Texas requires the right fuel to keep your team moving. When it comes to your equipment, you want to choose a power option that you can count on to protect your investment and keep costs low. Propane proves its value to Texas business owners with its reputation for affordable pricing, cleaner operation, and overall safety.
Reasons to Switch to Propane
Commercial landscaping business owners understand the benefits that propane brings to the table. Unlike gasoline or diesel, propane is a certified environmentally friendly fuel that is known on the market for its reputation for security and efficiency.
---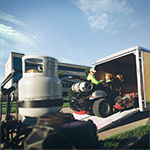 Cost Savings
Propane commercial lawnmowers may cost more initially, but its lower rates compared to gasoline or diesel will quickly return your investment. There are also safe, EPA-approved ways to convert your existing equipment to propane. Texas landscaping business owners can take advantage of further savings by participating in the Propane Mower Incentive Program.
Improved Efficiency
Propane's reputation for maximum efficiency continues in the commercial landscaping industry. Like industrial forklifts  and commercial vehicles , your landscaping equipment will optimize its fuel usage when powered by propane. Propane mowers require less maintenance and have longer equipment lifespans.
Reduced Emissions
Propane is a cleaner-burning energy option than other traditional landscaping fuels. Compared to engines fueled by conventional gasoline or diesel, propane equipment can produce lower amounts of harmful air pollutants and greenhouse gases.
For more information about propane for your commercial landscaping business, contact us here.